Acutecc Grinder
The COMPLETE out-of-the-box grinding solution that includes everything you need to start grinding!
With Arc Radius Technology
Enhances your ability to get on the radius of the disc
Powerful enough to be permanent, light enough to be portable
Your complete out of the box grinding solution
The longer mast height delivers a more consistent movement of the pendulum along the radius line, which in turn enhances the hollow when sharpening combs and cutters.

719-300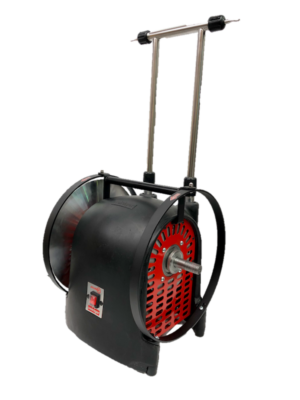 What's In The Box?
1 x Heiniger Acutecc A.R.T. Shearing Grinder
2 x Pendulums with Aluminium Case
1 x Coarse Red Heat Emery Sheet
1 x Fine Red Heat Emery Sheet
1 x 250ml Emery Glue
1 x Safety Glasses, Ear Plugs & Grinding Wall Chart
1 x Comb Hollow Check Stone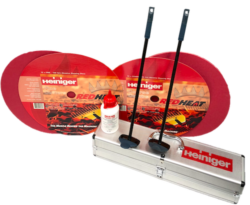 Red Heat Shearing Emery
The Muscle Behind The Machine
Unique backing achieves a true replication of the hollow
Exceptionally sharp with 100% patented SG ceramic grain
Offers fast coating removal with less loading and longer life
Our Red Heat grinding emery is unique in offering a 'closer to disc' grind due to its unique new backing and the 100% patented SG (Seeded Gel) ceramic grain lets you save time by changing emery less often.

Fine - 719-260
Coarse - 719-250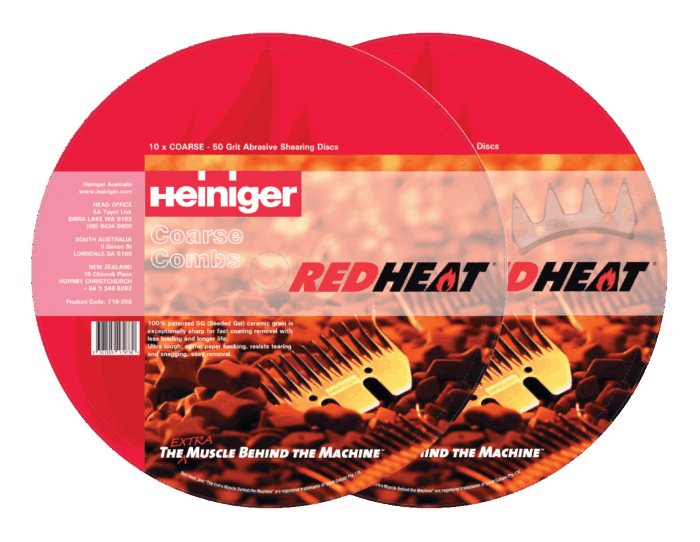 GT Premium Shearing Emery
Long lasting, crisp cut professional shearing emery for the professional shearer. Incorporates the latest in abrasive technology.

Available in coarse GT-999 for combs and fine GT-888 for cutters.

GT-888 Fine: 719-288
GT-999 Coarse: 719-299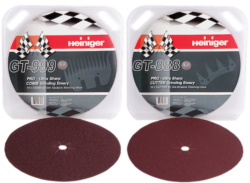 Diamond Grind Shearing Emery
Aluminium oxide shearing emery with strong spark definition.

Comes in coarse 40 grit for combs or fine 80 grit for cutters.

Fine: 719-203
Coarse: 719-202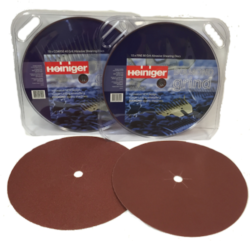 Pendulum
Complete with grinding technique chart, two handles, safety ear and eye wear. Versatile to use on any grinder, and adjustable for grinding combs and cutters.

T6 forged anodised aluminium head
Enhanced locking system for precise height adjustment.
Stainless steel rod delivers easy height adjustment and minimal maintenance.

719-032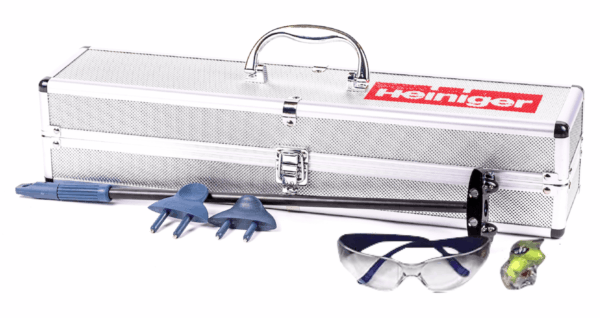 Shearers Glue
This latex-based adhesive is the preference of shearers worldwide. For reliable adhesion in all climates and reduced down time when changing emeries.

250ml: 719-013
500ml: 719-014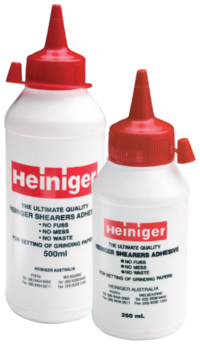 Grinding Disc Equipment

Grinder Disc Set 719-010 
Disc Cleaner F 9390230 
Disc Covers 719-023

Acutecc Hollow Gauge & Wall Chart
Silicon carbide checking stone ensures the correct "hollow" is obtained when grinding combs and cutters. Comprehensive grinding technique wall chart included.


799-054