Heiniger's patented LG2 technology reduces grease build-up on the back of the comb, provides superior entry and flow and allows the comb to sit better on the pelt of the sheep.
Combs with Heiniger's unique Bevel Angle Technology have a larger radius on the scallop, allowing for improved entry straight from the box.
TOPAZ
84.5mm wide; medium bevel
For use in all types of wool and shearing conditions.

714-078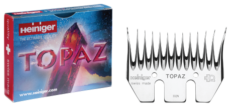 FREESTYLE
96mm wide; long bevel

For average to poor shearing merinos. Delivers a wide blow whilst leaving a beautiful finish.

Right Hand - 714-057
Left Hand - 714-087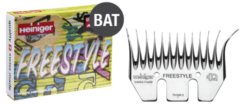 AWESOME
92mm wide; long bevel
For toughest of fine wool sheep. Specifically designed with a flat bottom tooth for those who shear with a flat hand.

714-051

RAPIER
86mm wide; long bevel
For use in tough shearing sheep. The straight bottom tooth allows easy entry in damp, sticky wool making it a favourite in crutching cradles.

714-040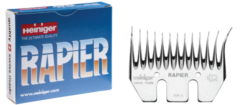 WICKED
93.5mm wide; long bevel
For all types of fine wool sheep. A proven favourite for achieving high tallies.

714-042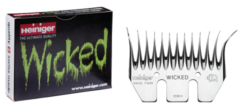 REFLEX
94mm wide; medium bevel

For shearing open wooled merinos and tough shearing cross-breds. Attention has been placed on the bends of the teeth resulting in a perfect finish.


Right Hand - 714-077 
Left Hand - 714-067