Blade Set 35F/17
By popular demand, our brand new 35F/17 large blade sets are now available in Australia & New Zealand. Experience stunning results unlike anything we've offered before - you'll have to see it to believe it!
Ideal for clipping close to the skin.
1-2mm cover.

 703-630

Blade Set 18/15
For thick, long or frizzy coats.
2-4mm cover.

 703-700


Blade Set 21/23
For dirty coats and cattle clippers.
2-4mm cover.

703-520


Blade Set 31/15
For a clean horse coat.
2-4mm cover.

 703-530


Blade Set 31F/15
Fine horse blade set.
1-2mm cover.

703-560

Blade Set 31F/23
For a perfect finish on horse coats.
1-2mm cover.

703-580


Blade Set 35/17
For horse and cow styling.
2-4mm cover.

 703-600 

Blade Set 53/23
For surgical use.
1mm cover.

703-670


10WF 1.5 mm
All-new wide blade designed to suit the Heiniger Saphir, Opal and other A5 clippers. The 10WF leaves a long lasting, smooth finish of 1.5mm cover with a 50% wider cutting area compared to a standard A5 blade to speed up your clipping jobs!


707-970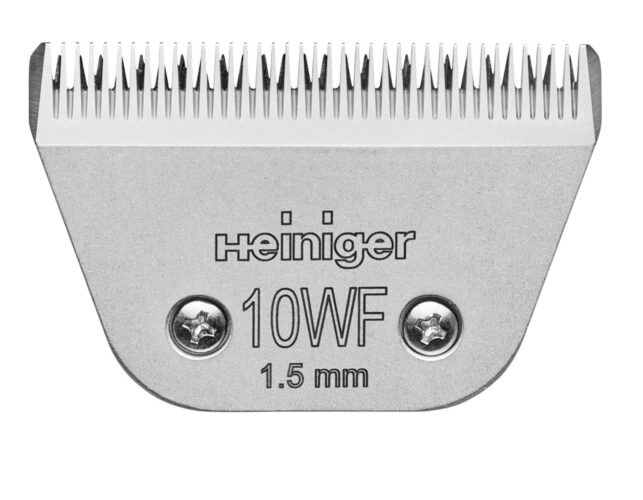 Clipper Oil
Enhance blade life and performance with Heiniger's specially developed biodegradable non-toxic clipper oil.

Dispenser Bottle 100ml - 701-647 
Refill Bottle 500ml - 707-102