Gentle Easy Rinse
Ideal for sensitive pets with a hypoallergenic formula. Gentle Easy Rinse provides rapid results and faster drying times with a low allergen fragrance and natural Aloe Vera and ultra-emollients that hydrate and moisturise the coat.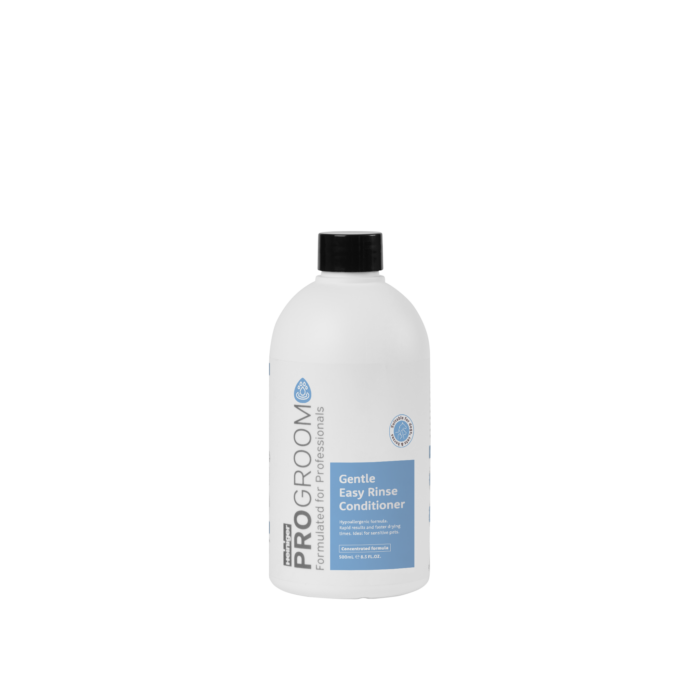 Everyday Easy Rinse
Save time with ProGroom's brand new Easy Rinse Conditioner which provides faster rinsing and drying time and leaves your pet smelling fresh for longer! Easy Rinse hydrates and moisturises the coat with aloe-vera and ultra emollients, leaving it healthy and shiny.
With an ultra concentrated, easy flow formula, Easy Rinse is ideal for hydrobaths, automatic dog washes and professional groomer use.
Easy Rinse compliments the fragrance of ProGroom's Everyday "pink" Shampoo and Springtime cologne.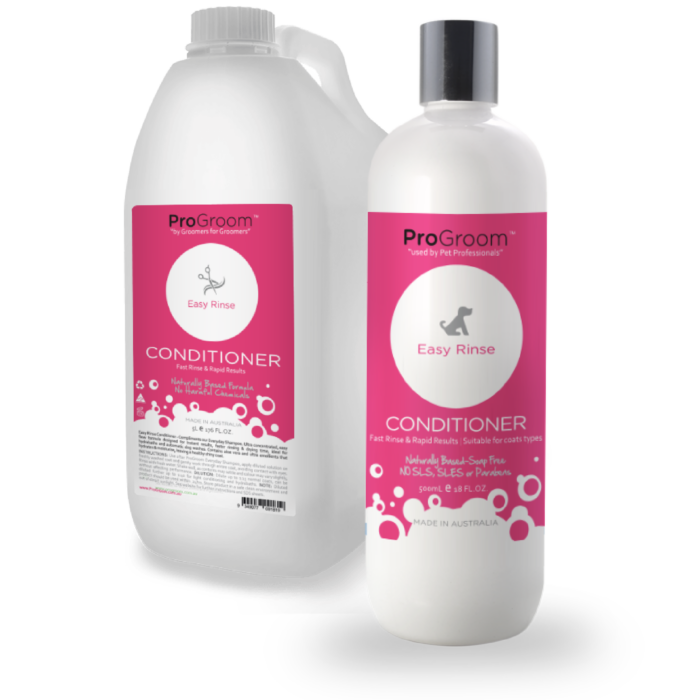 Pro Magic
A Groomers Magic Wand
Speeds up drying time
Amazing detangling and improved coat manageability
Protects hair from heat damage and grooming tools
Adds incredible lustre and shine to finished coats
Deters dirt and odours
Controls static
Maintains style longer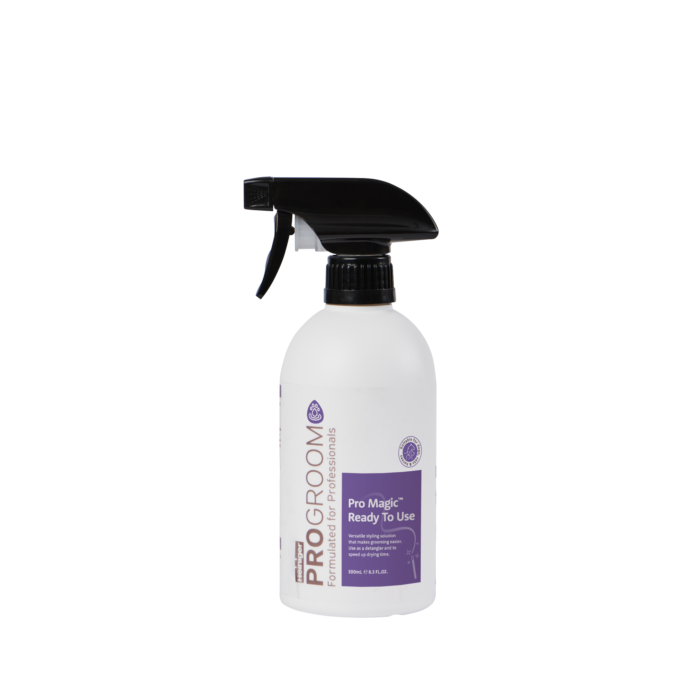 "
Pro Magic speeds up drying time and gives a lovely finish, especially to drop coats and aids in the shedding of working dogs and border collies. I wouldn't be without it.
"
Pampered Paws Dog Grooming Salon
Crisp
Non-softening Conditioner
Protects Coats Without adding Softness
Promotes texture and protects coats without adding softness
Gentle natural acidifier that seals hair and skin to retain moisture
Does not change texture of the coat
Ideal for coarse/wire coats or scissor cuts and naturally oily coats
Minimises damage caused by grooming
🐈 Formulated to be safe for cats too!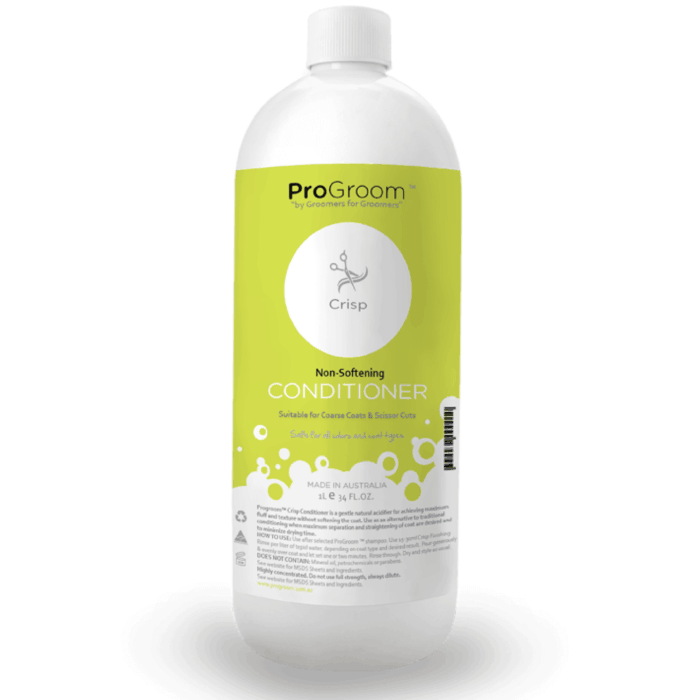 Hydrate
Soft and Silky
Lightly moisturises and rehydrates without weighing down coat
Eliminates static and creates coat manageability
Adds shine and lustre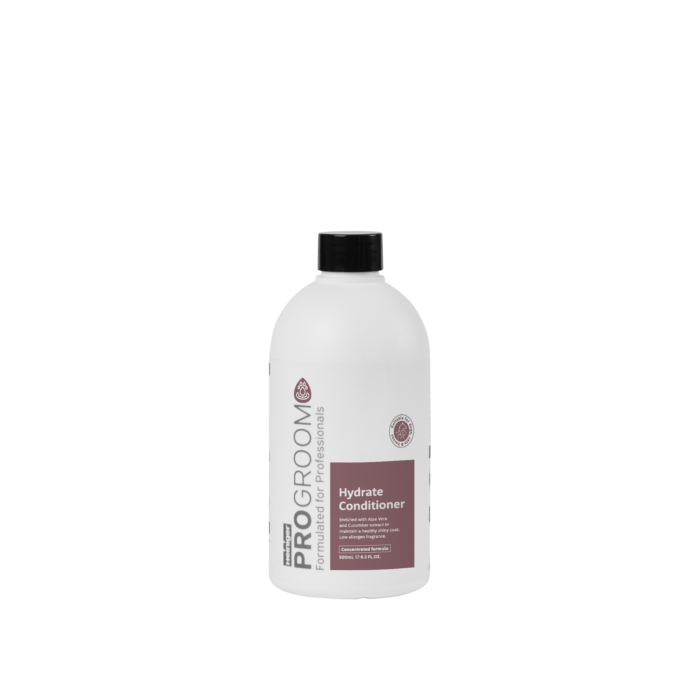 Intense
Deep Conditioning Masque Treatment
Reconstructs and restores integrity and health to dry and damaged coats
Penetrates and repairs cells to restore moisture balance
Contains Keratin Protein, Quaternized Honey and Pro Vitamin B5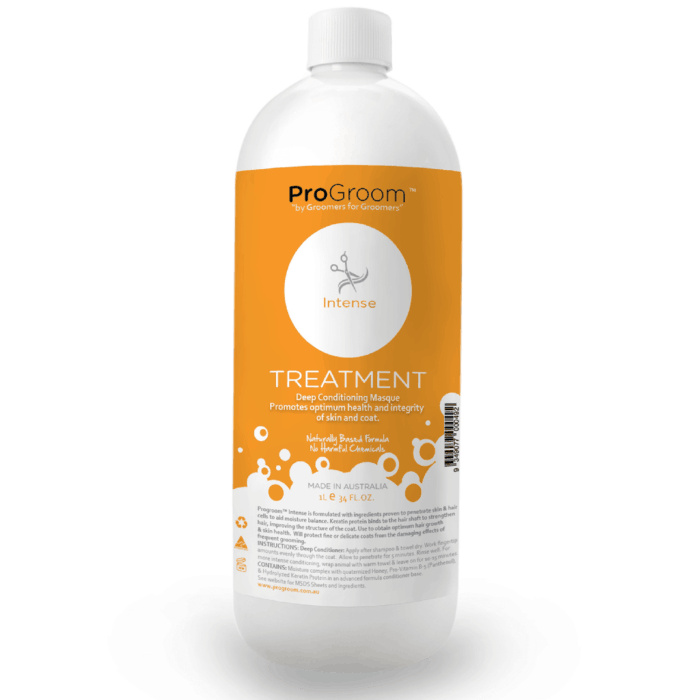 Dermal Care
Rejuvenates Skin
Natural moisturising agents to retain moisture balance
Protects against elements that can cause skin dry out and cause itching
Caring conditioning formula that is less likely to trigger reactions in sensitive pets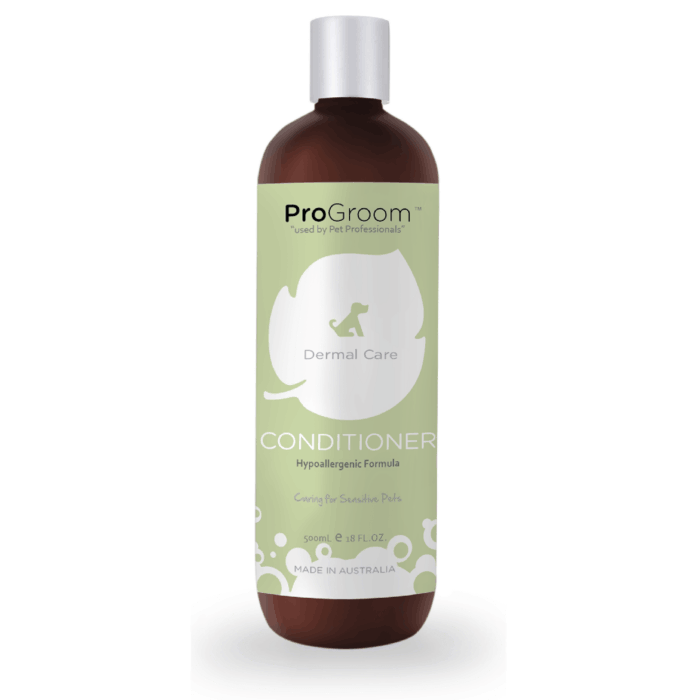 Coat Care
Restores and Maintains Coats
Rich emollient formula
Restores vitality and imparts manageability to coats
Natural plant extracts and wheat proteins moisturise, build volume, protect and restore troublesome coats