ProTect Hand Sanitiser Gel
Antibacterial | 70% v/v Alcohol | Kills 99.99% of Germs
EFFECTIVE. ProTect Hand Sanitiser contains 70% alcohol and is made from plant derived ethanol to take care of even the toughest bacteria with ease and leave your hands smelling fresh and clean.
EFFICIENT. We know how busy Groomers get, that's why ProTect Hand Sanisiter gets to work on nasties fast so that you can get back to your day quickly and know your hands are fresh and germ-free.
SHAREABLE. ProTect Hand Sanitiser comes in a 500ml bottle as well as a large 2L container so there's plenty to keep you and your workplace safe

500ml: PT-HS-500
2L: PT-HS-2L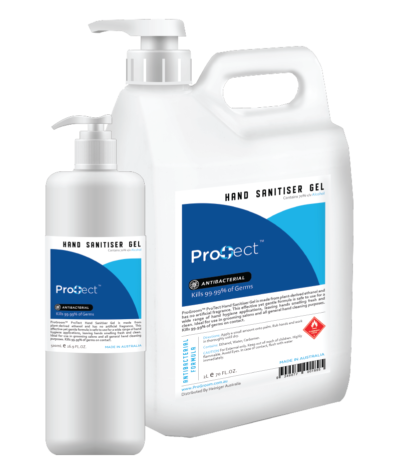 ProTect Sanitiser & Deodoriser
Infused with peppermint oil, ProGroom's all-new ProTect sanitiser and deodoriser is perfect for maintaining healthy, clean work environments.
EFFECTIVE. With a formula up to six times more effective than other leading brands, ProTect is the most efficient and cost-effective cleaning solution you will ever need.
FRAGRANT. ProTect's long-lasting peppermint fragrance ensures your workspace is always smelling delightfully fresh and clean, making it perfect for sanitising smelly baths, benches, kennels and floors.
CONVENIENT. From the convenient ready to use 500ml with spray tip to the more economical 5L concentrate, there's a size to suit everyone.

500ml Ready-To-Use: PT-RTU-500 
5L Ready-To-Use: PT-RTU-5L
5L Concentrate: PT-SD-5L