Heiniger's patented LG2 technology reduces grease build-up on the back of the comb, provides superior entry and flow and allows the comb to sit better on the pelt of the sheep.
Combs with Heiniger's unique Bevel Angle Technology have a larger radius on the scallop, allowing for improved entry straight from the box.
SAFETY WARNING!
Winter shearing combs should ONLY be paired with suitable cutters.
We recommend to only use either EDGE or XTREME cutters with winter comb profiles and we warn against the use of JET or DIAMOND cutters on winter combs. If you are unsure, we recommend you contact representatives of shearing equipment manufacturers before using winter comb profiles. For additional safety, we recommend using an Evo Shearing Plant for all shearing tasks.
CRUSADER
94.5mm wide; long bevel
For shearing tighter wooled sheep types.


714-069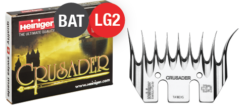 HIGHLANDER
97mm wide; medium bevel
For open wooled and tougher cross-bred sheep. Leaves a residual cover of wool for protection from the elements.


714-066